Creating connections and ceramics
Connecting with community is something that has not come easily for Salesi – more commonly known as 'Charlie'. 
Charlie is a resident at Mind's Dual Disability program in Werribee – a supported independent living service for NDIS participants with mental health-related disability and complex needs. 
Mind community mental health practitioners at the service provide 24/7 physical and psychosocial support. Psychosocial supports help people with mental health and wellbeing challenges to manage daily activities, rebuild and maintain connections, engage with education and employment, and participate fully in the community.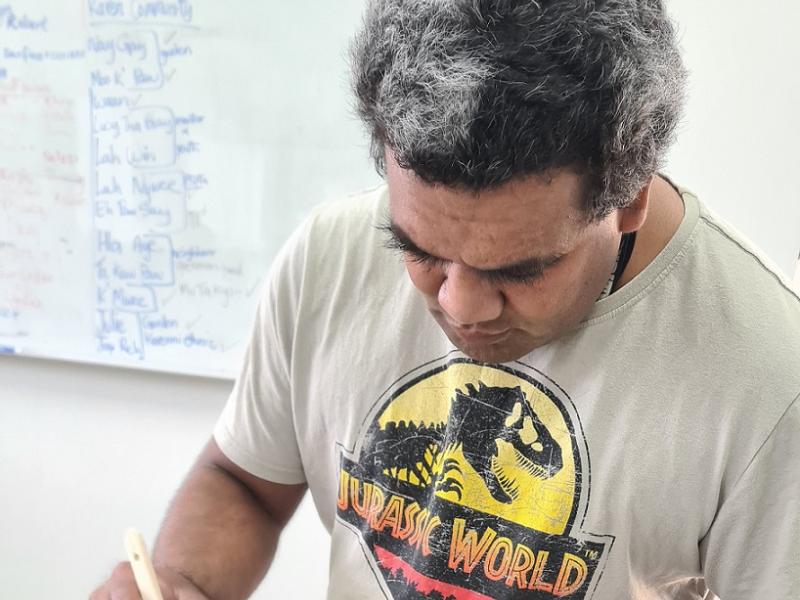 My favourite part is feeling the clay between my fingers and then painting the ceramics.
Simon, Charlie's independent NDIS support worker, said Charlie generally struggled to try new things and step out of his comfort zone. 
"The first time Charlie went to ceramics class it was without me. He only stayed for 10 minutes and he had already looked up which bus to take to get away before he had even arrived," Simon said. 
Ongoing support from Mind, and a lot of encouragement from Simon, has helped Charlie break through this barrier and build his confidence to become a regular participant at the ceramics class. 
Now, Charlie is making Christmas presents for his family, connecting with other people in the class and learning valuable social skills. 
"I especially like it now when Charlie is unsure of how to make something. Before long, most people in the class are helping Charlie and he is hanging off every word," Simon said. 
"Now when we go for walks, we are often talking about what we are going to make at the next ceramics class." 
Recently, two of Charlie's ceramic creations were chosen for an end of year exhibition from the class. 
Charlie was so proud of this that he invited residents and staff from the service to attend the exhibition. 
Charlie, a man of few words, said engaging his artistic side gives him a break from intrusive thoughts related to his diagnosis.  
"My favourite part is feeling the clay between my fingers and then painting the ceramics," he said. 
If you would like more information about Mind services, please contact us via Mind Connect or by phone: 1300 286 463. 
Intensive recovery support for up to 18 months to people who have experienced chronic homelessness, assisting their transition from rough sleeping or temporary hotel accommodation into longer-term housing
If this article raises concerns for you, please call Lifeline on 13 11 14. Aboriginal and Torres Straits Islanders can also call 13 YARN (13 92 76) a 24/7 national crisis support telephone service staffed by Aboriginal and Torres Strait Islander peoples. 
If you would like more information, please contact us.
1300 286 463 
[email protected]